Davido's first baby mama Sophia Momodu has always been one who has a high fashion sense and goes to great lengths to look good. However, she is not alone in the business of looking all chic and classy. Her daughter Imade Adeleke is also in with her. Together with her daughter, Sophia has created magic with clothes and fashion statements in general. Recently, the beautiful lady who is also a relative of Dele Momodu took to showing that she is still on top of her game when it comes to looking good. This she did by rocking a beautiful short gown that had intricate designs and edges. The brown, white and red crisp dress was indeed simple but classy. Sophia did not rock this attire alone, she actually also adorned her beautiful daughter Imade in a similar outfit. Looking all chic and beautiful, the duo stepped out for an event that occurred sometimes last week.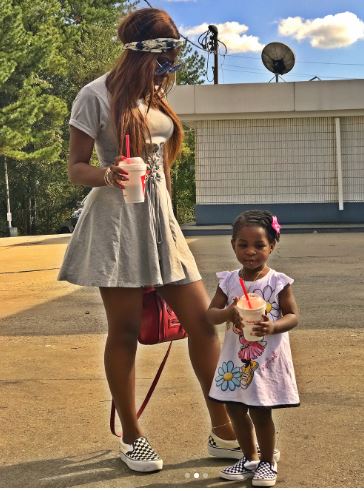 The excited Sophia took to her page to share photos of her simple and elegant attire. Alongside the pictures, she also wrote a caption that read thus: "I'm much nicer when my hair & outfit are on point…" In a more colourful photo which she took with her daughter, Sophia gushed not only about the dress but also about her beautiful daughter who she considers to be her bestie. Photos of these wonderful outfit was also shared on Imade's page. It was here that it was revealed that Sophia made the attires herself. Now, this is quite a new revelation given that not many knew Sophia Momodu to be a fashion designer.
Just a while back, Imade's celebrity father Davido and her mother Sophia Momodu had taken to attending an occasion together in honour of her. Indeed, the little lady seem to be enjoying all the love one can get from parents. Most male entertainers, due to the nature of their job, have a bevy of ladies around them and this leads to them also having a number of children. Actively being in the life of their kids can be a bit challenging. Celebrities all over the world no doubt have a very busy schedule but they make time for important occasions that matter to them. Nigerian music star, David 'Davido' Adeleke, is no doubt a caring father. Despite having several engagements to take up his time, he still manages to be very present in the lives of his kids. Recently his first daughter, Imade Adeleke's school celebrated their end of the year party and the star made sure not to miss the occasion. He put aside the differences he might have had in the past with her mother, Sophia Momodu, as they both showed up to make their daughter happy.