The governorship candidate of the All Progressives Congress, APC, for Lagos State, Babajide Sanwo-Olu, has played host to several celebrities who visited him to show their support for his ambition. Some of the celebrities from the music and movie industry who visited him include: D'banj, Phyno, King Sunny Ade, Jide Kosoko, Bello Salami, Clarence Peters and many more.
Sanwo-Olu shared the pictures of the visit on Twitter with the caption:
"We will restore a lot of cultural sites in the state, rebrand a lot of existing festivals to international standards with better content & security. We will also work with the film industry to upgrade infrastructure & support creativity in our schools.
#ForAGreaterLagos"
"Obago *In @phynofino's voice*.That's how I feel about our plans for Entertainment & Tourism.
We host some of the biggest shows & events in Africa every year, & working with the entertainers & bodies, we want to create avenues to bring more tourists to Lagos
#ForAGreaterLagos"
SANWO-OLU Babajide Olusola is widely regarded as a public sector expert in human resources and policy formation a power sector consultant per excellence, an astute banker, a compelling public speaker and an inspirational leader. Apart from a robust public sector service experience which spanned over eight years during which he was Honourable Commissioner for Commerce and Industry, Honourable Commissioner for Budget and Planning and Honourable Commissioner for Establishments and Training, Lagos State, at different times.
The very dynamic Babajide also has an enviable background in the private sector and close to ten years of exemplary banking experience during which he contributed immensely to the growth and development of Lead Bank Plc, UBA, and First Atlantic Bank (now First City Monument Bank) in various critical capacities. He has distinguished himself as a boardroom guru and has since become a widely recognised force in both the private and public sector, serving as Board member, Department for International Development, DFID/DEEPEN Fund; Member of the Board Audit Committee of Caverton Offshore Services Group, PLC and as Director, Light Level Nigeria Limited, the foremost digital signage company in Nigeria.
He also serves as Chairman for a number of thriving organisations, including Baywatch Group Limited – a multifaceted company with interests in construction, property development and human capital development – where he has served as Chairman/CEO since July 2011. First Class Group Limited, a cooling, power and maintenance solutions provider recognised widely for providing critical support for all major telecommunications company in the area of specialised cooling. Powercap Consulting, a leading power consulting boutique with vast experience in power privatisation exercise.
As Treasurer at Lead Bank Plc between 1994 and 1997, Babajide managed the liquid asset of the bank and general funding requirements on a daily basis. At United Bank for Africa, UBA, he was Senior Manager (Head, Foreign Money Market) managing the bank's liquidity position vis a vis protability. He was also responsible for articulating and implementing the bank's strategy in Investment Banking activities and Issuing House and
Portfolio Management.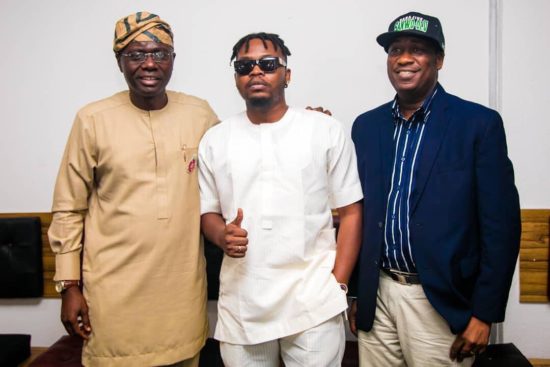 Subsequently, Babajide rose to the position of Deputy General Manager (Divisional Head) at First Inland Bank Plc, where he was Corporate Financial Advisor to several multinational companies. He also supervised the Bureau of Public Enterprises (BPE) privatisation projects including the concession of the National Arts Theatre, and the Lagos Trade International Fair Complex, the acquisition of Ikoyi Hotels Limited as well as the Federal Government Debt Conversion Programme.
A good number of the Nigerian celebrities are obviously behind Sanwo-Olu and are in full support of him. Share your comments below please.