The Nolly wood actress, Juliana Olayode, popularly known as Toyo Baby, due to her role in popular, Jenifa's Diaries, took to her Instagram page to post a photo of herself posing with her parents and her kid brother.
This was obviously a special moment to be documented by the star due to the fact that her folks, who were separated for 17 years, recently got back together. Evidently,  happiness was depicted with the kind posture the   family made.
The budding actress and inspirational speaker recently took to her Instagram page to share adorable pictures to mark her birthday. Juliana looking all glammed in her pictures, thanked God for life and for making her witness another year. Known for her deep love for God and Christianity, she wrote in her caption that all she desires in life is to be God's bride for was born in a family of eight and was brought up in Lagos, Nigeria. Olayode hails from Ipokia local government of Ogun State. While growing up, she never thought she would become an actress even though she was a drama queen.
However, before she came to limelight, she had featured in about four movies including Couple of Days where she featured as "Judith". She clinched the role in Jenifa's Diary after attending the audition. She has gone on to become a household name in the Nigeria movie industry. Despite gradually becoming a household name due to her role as Toyo Baby on the hit TV series, Olayode maintains her image as the girl next door. She strives to stay grounded despite the tendencies of fame and fortune.
The nolly wood actress and author Olayode Juliana has revealed that a possible wedding might be happening between her parents who have been separated for 17 years.Juliana shared the good news of how she and her siblings tried to unite the couple after several attempts and finally God made it possible.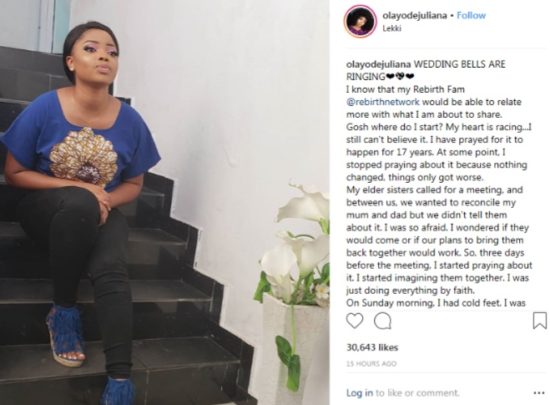 It would be recalled that in the second half of 2017, Juliana published her autobiography titled Rebirth: From Grass to Grace. In the book, she opens up her on her personal life, sexual abuse, and career struggles. Her book opened many untold stories to the people. Also, as a result of her personal experiences disclosed in her book, she became role mole and source of inspiration to many younger folks.
Does intimacy still works after several years of separation? Drop your views on the comment section