Davido  hypeman  Special Spesh  is back in the news but this time he's appologizing to his fans on social media. Celebrities now see nothing bad in flaunting their wealth in social media. Some of them flaunt houses, luxurious cars, private jets, shoes, jewelries, vacations and cash on their handles. This show off makes their fans beg endlessly for their financial support.
Davido's hypeman Special Spesh has just taken to his Instagram handle to show off some dollar notes. He shared several videos of the foreign currency of his Insta Story. However, not long after showing off thus huge amount of money, Spesh also took to his Instagram handle to apologize for his childish behavior.
See posts below:
Going through his Instagram handle, it is obvious that this is not the first time the young man would flaunting dollar notes. He shared them with the caption: "EFCC GO FREEZE US!!!! IM NOT A FRAUDSTER!!!! GOD GAVE US A WAY!!! #30BG! IN OTHER NEWS #DIAFADAIS OUT LINK IN MY BIO!!! Sorry for being childish…."
Meanwhile Earlier in the year when Davido's private  jet arrived Nigeria after so much anticipation, rumors went viral on social media that his father, Deji Adeleke, may be the real owner of the Jet because the popular pop music star lacked the financial capacity to bankroll such an expensive luxury.
While ownership of the private jet still remains a mystery, fresh rumors have surfaced that his father may be the true owner of the jet. Over the weekend, because his father had travelled with the jet, Davido who was supposed to perform at a music show in Nairobi, Kenya, cancelled it because he was stranded over flight issues.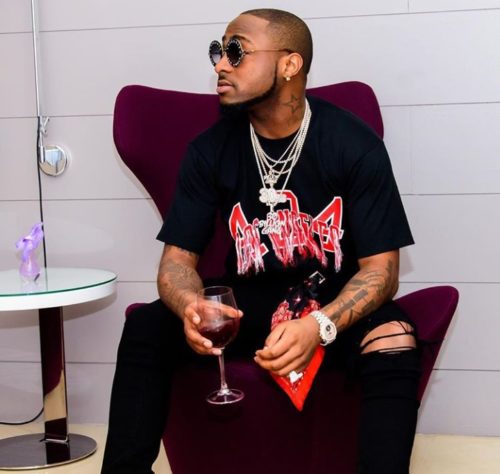 "Nairobi, I can't be with you guys tonight. Flight issues out of my control, we tried to find a solution but no luck. A new date will be announced soon", he wrote on Twitter while apologizing to his fans who had already bought tickets to watch him perform.
Curious to know why Davido would miss a show over flight issues when he claims to own a private jet, a fan asked, "Where is your private Jet", to which he responded, "I used commercial flight here, my dad had to use the jet, any problem."
Since his response, rumors have gone viral on social media that for Davido to miss a paid music show because his father had to make use of the private jet, the jet may not belong to him as he had initially claimed.