Popular Ghanaian actress, Nadia Buari has set social media on fire with the latest photos of herself and her daughters. in time past, she decided not to show the faces of her kids but how she keeps showing them on social media when she is practically saying she wants privacy is something we cannot fathom.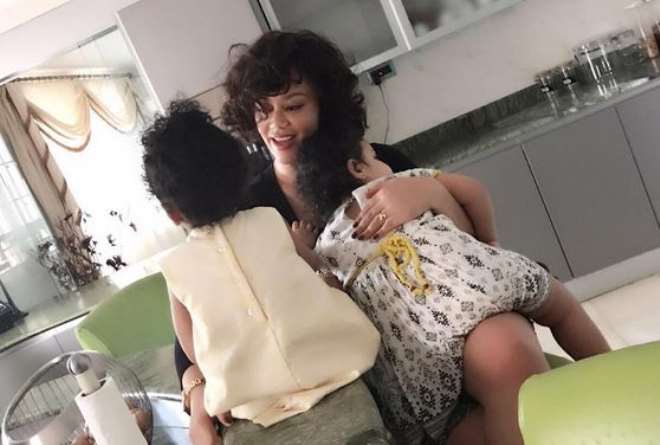 The mother of four shared a picture of herself with the family having a swim and we nearly got a glimpse of the girls.
The beautiful actress who shared the photos on her Instagram page, captioned them "I didn't give you the gift of life, Life gave me the gift of you and I wouldn't have it any other way. Dear God…Thank You! #MyWorld"
While the photos could be described as harmless, they have caused a lot of debate on Nadia's page. Many of Nadia's followers raised concerns over why Nadia always shares photos of her children but refuse to show their faces.
@peacemoney21Honestly Nadiabuari if you don't want to show your family stop posting the behind of their heads serious it is irritating… If you're scared of something then stop posting…. be mature and behave as such….
@barbara_boadi started the whole saga "@iamnadiabuari if you want to share them with the world, then do it. Why Are you hiding their lovely faces from us? Do you think we will kidnap them? (Scratching my head right now) "
And @agyeiwaam supported her "@Always hiding ur kids face….why are dey better than those celebs who show their kids face to the public….asem…boi"
@kiet.udom1 came with a plea"Stop hiding her pretty face. Let's see her face plssssssssssss"
@yasminyusuf774 "Show us their cute face lok" @princeobinnaaqurius "Why do you like hide face of your beautiful kids?" @tamim_v_"I personally look forward to see the real face of these beauties! Been mom surely fits you perfectly ma'am @iamnadiabuari" The young girl is one of the twin daughters of the actress who revealed some few weeks ago that she has had four children in the last three years.
After giving birth to the twin daughters in Atlanta, US, on February 13, 2015, not much was heard from her until her recent revelation which somehow shocked Ghanaians.
Born on November 21, 1982, Nadia Buari has been one of the leading actresses in Ghana since she burst onto the scene in 2005. She has featured in many movies both in Nigeria and Ghana after her breakthrough.