Nollywood actress Damilola Adegbite has hinted that she might write a book about her crashed marriage to Ghanaian star, Chris Attoh, to give her fans first hand information on what transpired between the duo. In a chat with news men, Damilola Adegbite was asked if she was willing to give marriage another try
Nollywood stunning beauty, Damilola Adegbite, may still be a bit bitter about her marriage failing to go the distance and thus has got something against the menfolk. In a recent Instagram post, the actress berates the way some men treat women, saying, many men have made monster of women and thus deserve whatever diabolical spells that come their way as a result. Damilola Adegbite "Some men think they can toy with women's emotions. What goes around comes around baby. Karma will soon come for you.
When you watch Yoruba movies and people are having issues, they will tell them to go and look for who they offended. Where will you start from? Sometimes, I don't feel sorry for some men when I hear women are showing them pepper. You are the ones creating monsters. If the shoe fits, please feel free to wear it. And catwalk in it if you like. And to my sisters, if he's making you cry more than he's making you laugh, please carry your bags and leave! Protect your sanity," she writes. " Broken hearts everywhere. Some men are wicked. Continue, some of these girls you are hurting are witches.
They will soon carry your names to their meeting," she added on her page. Celebrities like Comedian Ayo Makun, Ushbebe, Zynnel Zuh all reacted to her post in different moods. But when a certain follower of hers insinuated that her post is targeted at her ex husband, the actress got mad and blocked him off. " Wow, confessions are good for the soul.
Maybe you may now be free of your demonic plan. Someone stated, right, stop trying to shade your ex," the follower had commented and Damilola wasted no time in responding and passing her own judgment " I feel like blocking you. You are blocked," he responded with a pensive emoji. Damilola Adegbite was once married to Ghanaian actor, Chris Attoh after their romantic exploits in the Nollywood flick 'Flower Girl' but the marriage crashed just after two years.
"Of course, why not? I never say never. This time, I will be looking out for a man; he has to be a man (in the real sense of the word). I don't try to foresee things as I prefer to live in the moment. I learnt a lot from my past experience (in marriage) and I may have to write a book about it. There are quite a lot of things and I wouldn't want to single out one.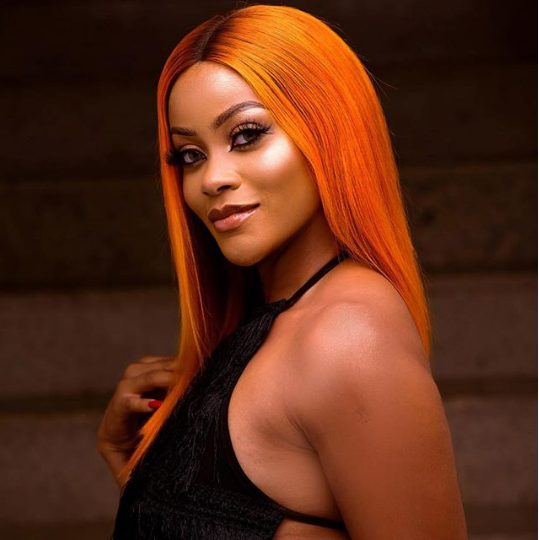 f I single it out, it may seem like the most important one when it's not so; they are all very important." Damilola also believed marriage between two entertainers could work successfully  "I don't see why marriages between entertainers cannot work," she said. Speaking on her experience working on the movie, Merry Men, with AY, she said:
Quote
"It was an amazing one for me. I had a good time doing it. This was the first time I worked with AY and I really enjoyed it. However, my dream role is to be a Bond girl. I like the physical part of running and jumping; that'd be a bit more exciting than the drama we are used to in this side. I wouldn't say I'm a tomboy but I like to work out and get active.
Before agreeing to be in any movie, I check my character in it and the story in general; I have to connect to it before I can be part of it. I also consider the other actors that would be on the project."
The actress also maintained that acting was the only job she had ever thought of doing "Right from when I was a little girl, I've always wanted to be in the spotlight. And I'm also lucky because my parents supported me from the outset. I think I had my breakthrough in the TV series, Tinsel," she stated. Speaking on the cause of the scar just around her eyes, Adegbite said:
"It was a car accident when I was younger. It was a ghastly one and at the point of impact, everything just went blank for me and my face was ruined." On if she would consider cosmetic surgery, Damilola said: