Forbes has released its 20th annual list of highest paid entertainers, with boxer, Floyd Mayweather ($285 mil in pretax annual earnings), occupying the top spot.According to Forbes, the world's 100 top-earning entertainers pulled in a combined $6.3 billion pretax over the past 12 months, up 22% from last year, and the third highest sum in the list's 20-year history.
Over the past two decades, more than 700 actors, actresses, musicians and other stars have appeared on the list, accumulating a total of $80 billion in earnings, Naija News gathered.Floyd Mayweather's $275 million earning, secured him the No. 1 spot for the second year since 2015.George Clooney ($239 mil) is in the No. 2 spot after British liquor giant Diageo purchased Casamigos, the tequila company Clooney cofounded, giving him the best annual take-home of his—or any actor's—career.
In third position is Kylie Jenner ($166.5 mil) who returns to the list after a significant jump from the 2017 newcomer's spot at No. 59, followed by Judge Judy Sheindlin ($147 mil) at No. 4. Dwayne 'The Rock' Johnson, earning $124 million, completes the the top five.U2, Coldplay, Lionel Messi, Ed Sheeran and new Juventus signing, Cristiano Ronaldo, completes the top ten 2018 Celebrity 100.
The Highest-Paid Celebrities 2018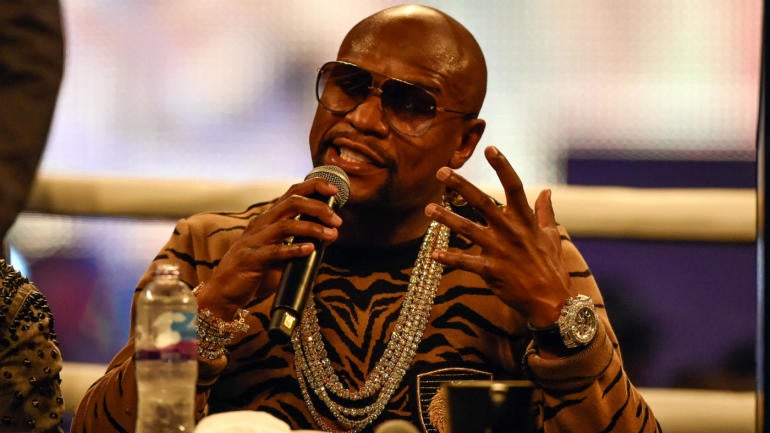 There's never been a better time to be famous. The world's 100 top-earning celebrities pulled in a combined $6.3 billion pretax over the past 12 months, up 22% from last year; 11 superstars crossed the $100 million threshold, more than double the number from the last two years combined.
Those are just a few of the takeaways from the 20th annual Celebrity 100 package, our accounting of the highest-paid front-of-camera stars on the planet. Floyd Mayweather tops the ranking with $285 million in pretax earnings, almost entirely on the strength of his August 2017 fight versus listmate Conor McGregor. George Clooney finishes second with $239 million, most of it coming from liquor giant Diageo's purchase of Casamigos, the tequila company he cofounded, giving him the best annual take-home of his—or any actor's—career.
Our cover star, Kylie Jenner, pulled in $166.5 million to claim the No. 3 spot, boosted by a sprawling cosmetics empire that has her on the verge of becoming a billionaire before she's old enough to drink. Judge Judy Sheindlin's $147 million puts her at No. 4—buoyed by the sale of her TV library for $100 million—while Dwayne "The Rock" Johnson rounds out the top five with $124 million thanks to blockbusters like newly-released Skyscraper.
3 Kylie Jenner
The youngest on the list is 20-year-old Jenner. Later this year, she'll likely take the title Mark Zuckerberg and Bill Gates once held: the world's youngest ever self-made billionaire. Like The Rock, Jenner has leveraged social media to market her wares to a mammoth audience—over 110 million followers on Instagram alone.
"Social media is an amazing platform," she told Forbes. "I have such easy access to my fans and my customers."
Jenner isn't the only cover star to make the list. She's joined by her half-sister, Kim Kardashian-West (No. 30, $67 million); The Weeknd (No. 39, $57 million) and Katy Perry (No. 19, $83 million), all of whom appeared on the cover of the Celebrity 100 in recent years.
"I don't feel like my career is a ticking time bomb," Perry said, presciently, at the time. "I don't feel like I'll always have to be feeding the meter of show business. I got my spot, yo."
FLionel Andrés Messi Cuccittini[note (Spanish pronunciation: [ljoˈnel anˈdɾez ˈmesi] (About this sound listen); born 24 June 1987) is an Argentine professional footballer who plays as a forward for Spanish club Barcelona and the Argentine national team. Often considered the best player in the world and regarded by many as one of the greatest players of all time, Messi has a record-tying five Ballon d'Or awards, four of which he won consecutively, and a record five European Golden Shoes. He has spent his entire professional career with Barcelona, where he has won 32 trophies, including nine La Liga titles, four UEFA Champions League titles, and six Copas del Rey. Both a prolific goalscorer and a creative playmaker, Messi holds the records for most official goals scored in La Liga (383), a La Liga season (50), a club football season in Europe (73), a calendar year , El Clásico (26), as well as those for most assists in La Liga (149) and the Copa América (11). He has scored over 600 senior career goals for club and country.
Born and raised in central Argentina, Messi was diagnosed with a growth hormone deficiency as a child. At age 13, he relocated to Spain to join Barcelona, who agreed to pay for his medical treatment. After a fast progression through Barcelona's youth academy, Messi made his competitive debut aged 17 in October 2004. Despite being injury-prone during his early career, he established himself as an integral player for the club within the next three years, finishing 2007 as a finalist for both the Ballon d'Or and FIFA World Player of the Year award, a feat he repeated the following year. His first uninterrupted campaign came in the 2008–09 season, during which he helped Barcelona achieve the first treble in Spanish football. At 22 years old, Messi won the Ballon d'Or and FIFA World Player of the Year award by record voting margins.
Three successful seasons followed, with Messi winning three consecutive FIFA Ballons d'Or, including an unprecedented fourth. His best campaign statistically to date was the 2011–12 season, in which he set the La Liga and European records for most goals scored in a single season, while establishing himself as Barcelona's all-time top scorer in official competitions in March 2012. The following two seasons, Messi finished twice second for the Ballon d'Or behind Cristiano Ronaldo, his perceived career rival. Messi regained his best form during the 2014–15 campaign, breaking the all-time goalscoring records in both La Liga and the Champions League in November 2014,[note 3] and led Barcelona to a historic second treble.
An Argentine international, Messi is his country's all-time leading goalscorer. At youth level, he won the 2005 FIFA World Youth Championship, finishing the tournament with both the Golden Ball and Golden Shoe, and an Olympic gold medal at the 2008 Summer Olympics. His style of play as a diminutive, left-footed dribbler drew comparisons with compatriot Diego Maradona, who declared the teenager his successor. After making his senior debut in August 2005, Messi became the youngest Argentine to play and score in a FIFA World Cup during the 2006 edition, and reached the final of the 2007 Copa América, where he was named young player of the tournament. As the squad's captain from August 2011, he led Argentina to three consecutive finals: the 2014 World Cup, for which he won the Golden Ball, and the 2015 and 2016 Copas América. After announcing his international retirement in 2016, he reversed his decision and led his country to qualification for the 2018 World Cup.