86 year-old Grace Atinuke Oyelude is known to be the first Miss Nigeria from the year 1957 after winning the maiden edition of Miss Nigeria.
Sixty one years after winning the first beauty pageant by the Daily Times, how is the first Miss Nigeria recently?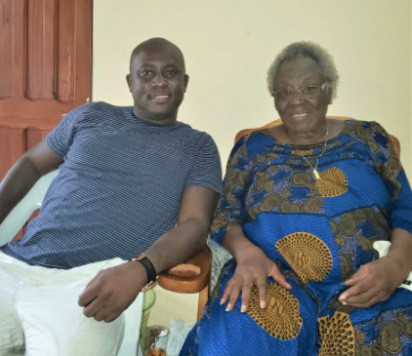 More recently, precisely on July 16, 2018, her ebullient nephew and a Professor of English Language at Carleton University in the United States, Pius Adesanmi, posted a photograph of the gracefully ageing Grandma Oyelude.
Oyelude was born in Kano to James Adeleye Olude and Marthan Dantu of Isanlu from Kogi State, and was raised in Northern Nigeria. She had her primary and secondary education between 1940 and 1952 in Kano.
Miss Nigeria commenced in 1957 as a photo contest. Contestants posted photographs of themselves to the Daily Times headquarters in Lagos where finalists were shortlisted. At that time, the Miss Nigeria contest did not include a swimsuit competition. She entered for Miss Nigeria photo contest, while she was working for the UAC in Kano. She made the final at the event staged at the Lagos Island Club.
When she was asked about the experience, she said: "I was living in Kano then. My brother saw the advertisement in the newspapers and advised me to go to Lagos for an interview to be selected as a Miss Nigeria contestant. "He applied, and the result was that I was supposed to be in Lagos for the Miss Nigeria contest. I was working in the UAC then, and they also were also involved in the pageant. The following day, they got me on a plane to Lagos and that was it."
After winning the contest, she travelled to England to study Nursing.
Oyelude became a State Registered Nurse in 1961 and became qualified as a state registered midwife SCM (NRM) in 1962 after training at St. Thomas' Hospital, London. She moved on to the Royal College of Nursing, England in 1971 and obtained a diploma in Nursing and Hospital administration (DNHA). At the Ghana Institute of Management and Personnel Administration, she completed studies for another diploma.
In the United Kingdom, Oyelude worked in several hospitals including Paddington General Hospital, one of the former local hospitals of St Mary's Hospital, London. After returning to Nigeria, she worked in Kaduna General Hospital between 1964 and 1965. She worked as a senior nursing sister-in-charge of the former Kaduna Nursing home (now Barau Dike specialist hospital, Kaduna) from 1965-1977.
She voluntarily retired from that post in 1985. She was also an external examiner of the Nursing and Midwifery Council of Nigeria. She chaired the Kwara State Health Management Board from 1980 to 1983.
Oyelude is the embodiment of beauty, courage, and confidence. No matter young or aged, the essence of beauty will never be changed.