A Nigerian student, Stella Emelife Chinelo, has broken a 100-year academic record at the 99th convocation ceremony of the Mysore University, India to emerge overall best graduating student.
The 29-year-old from Anambra, who grew up in Sokoto, became the best Masters Degree graduating student from the Indian university.
The University of Mysore is a public state university in Mysore, Karnataka, India.
Chinelo's record-breaking performance has placed her high to be decorated with 20 Gold Medals in addition to five cash prizes awards.
Chinelo is a 2012/2013 First Class graduate of Chemistry from the Usmanu Danfodiyo University, Sokoto
Vice Chancellor of the Usmanu Danfodiyo University, Sokoto, Professor Abdullahi Abdu Zuru disclosed this on Friday at the 35th, 36th and 37th combined convocation awards of degrees, diplomas and certificates of his university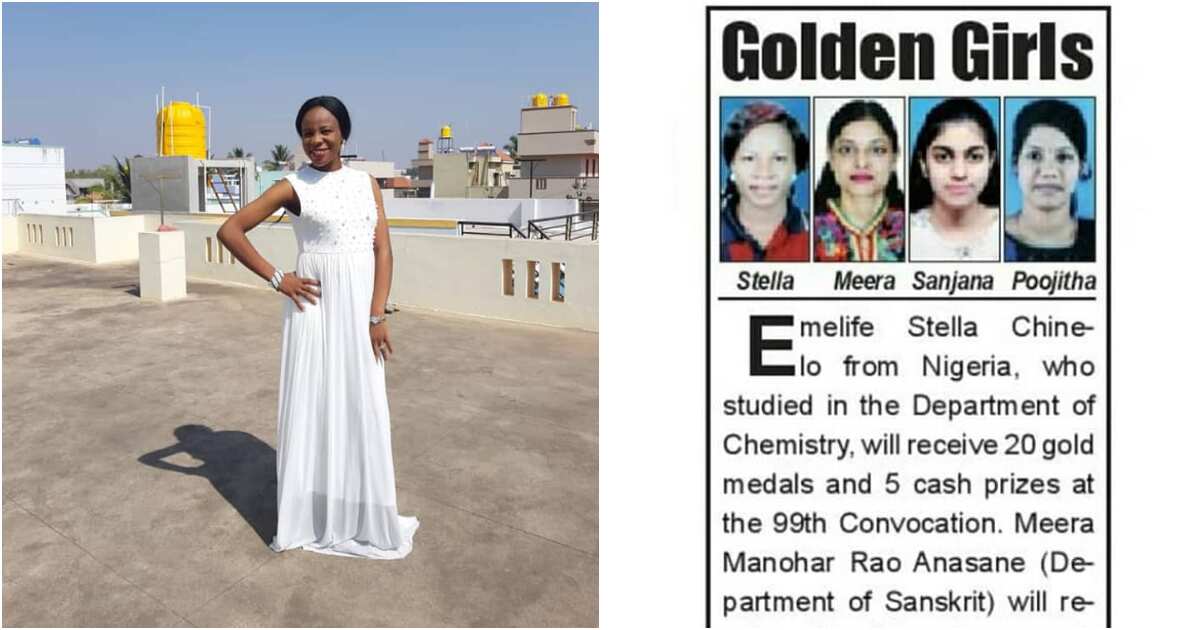 The University of Mysore is ranked 54th among Indian Universities in the recently announced national ranking by the country's National Institutional Ranking Framework (NIRF) 2019.
In July 2017, a Nigerian, Samiat Owo-Alade, emerged the best-graduating pharmacy student at the Rajiv Gandhi University of Health Sciences, Karnataka, India.
Owo-Alade, 23, emerged the best graduating student in her faculty after having the highest score of 75.5 per cent in her result for 2016/17 academic session.
An indigene of Ikorodu, Lagos State, Owo-Alade said the disappointment she experienced while seeking admission into varsities in Nigeria after her secondary school education in 2011 pushed her into going abroad to study.
In 2017, there were 1202 Nigerians studying various academic programmes in Indian universities.
According to the report by Association of Indian Universities, Nigeria ranked fifth in the biggest sources of international students in the country's academic institutions behind Nepal (5,480 students), people of Indian birth who live outside India (4,557), Afghanistan (2,732), and Malaysia (1,357).
The association noted that India's recruitment of foreign students is "abysmally low", depriving its universities of potential revenue, diversity and global outlook.
Please share your views in the comment section.