The Federal Government's fight against corruption appears to be gaining momentum as the Economic and Financial Crimes Commission EFCC announced it is investigating top politicians. The acting chairman of the anti-corruption agency Mr. Ibrahim Magu has been speaking on the commission's basic efforts to unravel more cases of money laundering and financial crimes allegedly committed by some prominent Nigerians. Mr. Magu is in London this week to meet with investigators assisting the Nigerian government on alleged fraud cases. Mr. Magu spoke with Channels Television London correspondent, Juliana Olayinka in an exclusive interview broadcasted on channels television.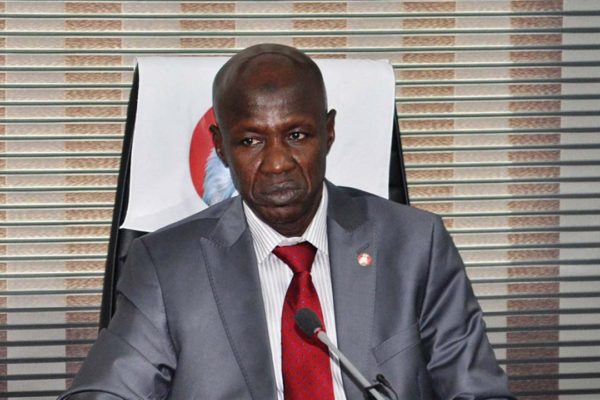 On the identity of those under investigation by the EFCC he had this to say:
EFCC Boss: it is not for me to sit down here and begin to tell you about the people we are investigating. Of course, we are doing some couples of checks and investigations here and there. We are investigating almost everybody. It has to reach some level for us to come out in the media to say that we are investigating so so which means it will jeopardize the process of investigation you know what I mean "
Channels Correspondent: yes, but some of your investigations have been made public. You can read about that on the internet
EFCC Boss: but it will not be the fact, if I bring out the details in the investigations, you will see a lot of differences from what is on the internet"
Channels Correspondent: what is it EFCC versus Bukola Saraki. Some have said that Ibrahim Magu versus Bukola Saraki. What exactly is it you are investigating him for ?"
EFCC Boss: no, no, no, I would not sit down here and disclose to you what we are investigating him for but I am telling you that it is not personal at all. It has been on for some time and that is why I am here. We are trying to interact with our partners in Chelsea, in London, in Switzerland and everywhere to unfold the details of the financial crimes that have been committed and the money laundering, so it is not personal at all "
Channels Correspondent: one name that has been abused is Azeez Fashola popularly known as Naira Marley
EFCC Boss cuts in: you see this is most unfortunate to…infact, these artistes and celebrities. You know when we had the anti-corruption marathon. We had a lot of celebrities that participated and it was very encouraging. I tried as much as possible … you know these are stakeholders. You know fighting corruption must involve everybody. You have to mobilise everybody into the fight. That is one of the most effective ways of fighting corruption. You need to make people take ownership of the fight against corruption. It is very sad that some of these musicians are found to be involved in Yahoo, Yahoo mannerism. I would not say Naira Marley is a scapegoat per se. Everyday is for the thief, one day for the owner"
Meanwhile, Naira Marley, the musician mentioned by the anti-corruption czar would have to stay in prison until May the 30th when hearing on his trial for fraud continues. The presiding judge of the federal high court sitting I. Lagos justice Nicholas Onwueibo gave the order On Monday 20th May. After the musician whose real name is Azeez Fashola was arraigned before the court on eleven counts. The EFCC has filed a charge against him on Tuesday, May the 14th according to the charge sheet. Naira Marley and YAG Israel and other suspects still at large around November 20th,2018 conspired to use a bank card not belonging to them. Naira Marley pleaded not guilty. If convicted the musician Azeez Fashola could be jailed for a maximum of seven years or pay a fine of not more than five million naira.