According to reports in Kenya, Police officers were left stunned after thieves attacked them while they abandoned their duty for a football match.
The robbers stole guns and ammunition from an unattended checkpost as the officers on duty were busy watching  UEFA Champions League matches down the road.
Three rifles and nearly two dozen rounds were pinched from the checkpost Tuesday evening in Nandi, in Kenya's west, while the officers wandered off to watch Cristiano Ronaldo and Lionel Messi play in the UEFA quarter-finals on television at a nearby shopping mall.
"On returning… they noticed the room of the in-charge, which is also used as an armoury in which the steel box is kept, was broken," stated a police report into the incident seen by AFP.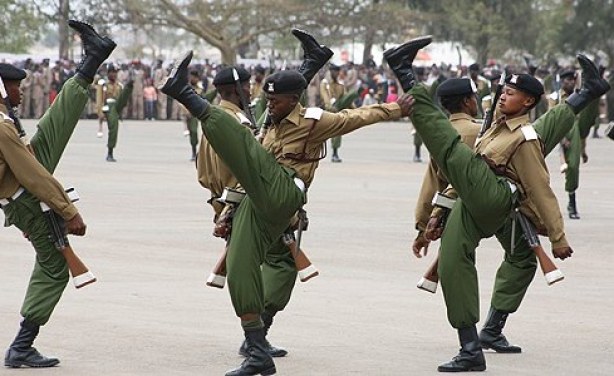 A search was underway for the stolen firearms, the report added. It was not immediately clear if the officers faced disciplinary action.
Dutch side Ajax upset Ronaldo's Juventus while Messi's Barcelona crushed Manchester United in Tuesday's quarter-finals.
Football, particularly the top European competitions, is hugely popular in Kenya and across the African continent.
Meanwhile, Three bodies of the Kenyans who died in an accident in Arusha, Tanzania on Sunday have been airlifted to Kenya for burial.
Four Kenyans were involved in the accident but three died.Police said one woman and two men including a nephew to Kirinyaga woman Rep Purity Ngirici died in the accident.The nephew has been identified as 21-year-old Robin Kiambuthi.
The second victim was identified as Onesmus Mwange, an IT specialist in Nairobi.The third victim is a female friend who had accompanied them.The victims were involved in a road race when the cars were involved in a crash in Oldonyosambu area, Arusha."The next of kin of those who perished have already been informed and their bodies airlifted back to the country, while the survivor is in the process of being transferred home for medication after stabilization by Tanzanian medics," said police spokesman Charles Owino.