The Akwa Ibom State Police Command on Wednesday rounded up 16 suspected hoodlums, including a man, Essien Okon, who supposedly killed his 12-year-old child, Joseph. Essien and his wife, Peace, supposedly arranged a toxic blend with a specific seed called asene and make the kid to drink it. It was found out that they took the dead boy to a bog where he was bury.
The dad, who admitted to the wrongdoing, said Joseph was a wizard, who had kill  his previous spouse with supernatural powers. Our reporter discovered that Essien married Peace after the passing of his previous spouse, Joseph's mom. He included that a significant number of the hardships he had been having was brought about by the kid.
According to gistmore.com, the state Commissioner of Police, Zaki Ahmed, in a quick session with  journalists, said the suspects would be arraigned at the end of investigation.
"On March 25, 2019, operatives of Oron division arrested one Essien Okon and Peace Okon of Edoho Emma Street, Oron Local Government Area, who conspired and lured their son, Joseph Okon, now deceased, whom they accused of witchcraft, into an engine boat on the pretext of going to cut bamboo sticks in a swamp to be used for construction of a kitchen.
"While at the swamp, the suspects removed a concoction, prepared with poisonous seed called asene and water; they used enema and pumped the concoction into the deceased's stomach, leading to his instant death. The suspects secretly dug a shallow grave in the swamp and buried the deceased there," he said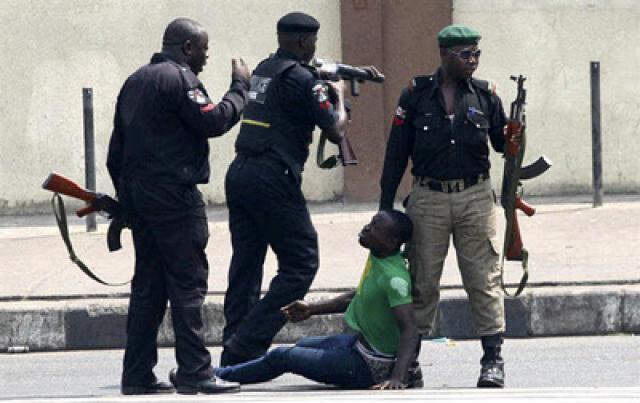 Ahmed added that on April 4, 2019, around 1am, the police uncovered  a kidnapping den  at Afaha Efiat village, in the Etinan LGA, and arrested one of the most wanted kidnap kingpins in the state, Edidiong Bill, alias Barrister.
He also stated  that during investigation, "the suspect confessed to be the overall leader of the Vikings Confraternity cult in Etinan, adding that he was involved in several heinous crimes, including kidnappings and robberies within Etinan and Uyo areas".
"The suspect also confessed that sometime in 2017, he masterminded the kidnap of a lady at Akpan Essien Street, Uyo and kept her in an uncompleted building at Obio Eton in Uyo and collected a ransom of N4.5m before she regained her freedom.
"On April 4, policemen attached to Operation Purge, in the Etim Ekpo LGA, also arrested a notorious cult member, John Effiong. "During investigation, the suspect confessed his involvement in five armed robberies and also admitted that he was a member of the Iceland Confraternity cult," the CP added.
One of the suspects, Bill, who said he had once been jailed for kidnapping, blamed his father for his actions.
He said "I kidnapped three people and collected N4.5m from them; but I lost N3.8m of the money to my father.
"I blame my father because he did not train me well while I was growing up. But when I went to live with him after I had money, he stole part of the ransom from me and ran away with it."
What are your thoughts on this? Kindly leave a comment