A Nigerian lady's hope of making a fortune in France turned into a nightmare having fallen to human traffickers who reportedly made her a sex slave. she was trafficked to France as she ignored the possibility of death and madness to escape from a pimp who made her to swear an oath.
In a recent CNN News report, she is identified as Nadège ( real name withheld). The Bois de Vincennes park in Paris used to be a home for her until she managed to escape her captors. Nadège claims that "she was trafficked from Nigeria to France and forced into sexual slavery, at €20 ($23) per client, to pay off a colossal debt to a female Nigerian pimp", in a report by CNN.
The pimp who is described as "madam" had made false promises about a good life in Europe when they met in Lagos. She anticipated a visit to France will get her a waitress job as promised but that never happened. "I was told it was like a paradise but getting here, it was like from frying pan to fire," says Nadege to CNN. She was made to swear an oath at a juju temple before leaving Nigeria.
She further added that by swearing to oath she agrees to "repay her madam for sending her to Europe and to never speak of her oath, or her debt, to anyone. According to CNN, Nadège was 20 years old when she flew out of Nigeria on a commercial flight to France. She reportedly traveled with a fake passport.
Settling a debt of over N20 million was one of her obligations to the pimp who also seized her traveling documents to prevent her from running away even though she had oath consequences to deal with. Things soon took a different turn for the lady when she became pregnant for her boyfriend.
At this time she made a decision to escape the forced labour but risks terrible consequences such as death or madness. Fortunately, both never came. They are expected to be the outcome of 'betrayal' if she fails to fulfill her obligation to the madam. She admitted that she was waiting patiently for the death or the madness. She said to CNN that her thoughts were 'Should I go over to the street and start working? Should I abort my baby?'.
Nadège now enjoys protection at an asylum in France but her family members in Nigeria are not so safe. Some Persons loyal to the pimp have been threatening them since she escaped. She has vowed not to return to Nigeria because it is not a place for her especially when playing the role of a mother.
It would be recalled that a certain Nigerian Blessing Okoedion rose from being a victim of sex trafficking to becoming an advocate in the fight against modern slavery a few months ago. Working as a cultural mediator for trafficking victims staying in a shelter run by a community of Ursuline sisters in Italy, Blessing honored by the U.S government as a 2018 Trafficking in Persons hero.
As Blessing Okoedion stepped onto the podium to receive the 2018 Trafficking in Persons Hero Award in the United States, not many would be able to comprehend the depth of anguish she once put up with as a victim of sex trafficking in Italy. Betrayed and tricked into prostituting on the streets of Italy, Blessing found grace under pressure by taking the initiative to report her traffickers to the police. She did not stop at fighting for her freedom, she is also working to raise awareness about human trafficking in Italy.
Before landing in Italy in 2013, Okoedion managed a business selling computer accessories and rechargeable lambs in Edo State. Unlike many victims of human trafficking from the region, Blessing was not tricked with the promise of coming to work as a house help or hair stylist. She was an ambitious young lady and traffickers lured her with the prospect of traveling to Spain to work in a computer store.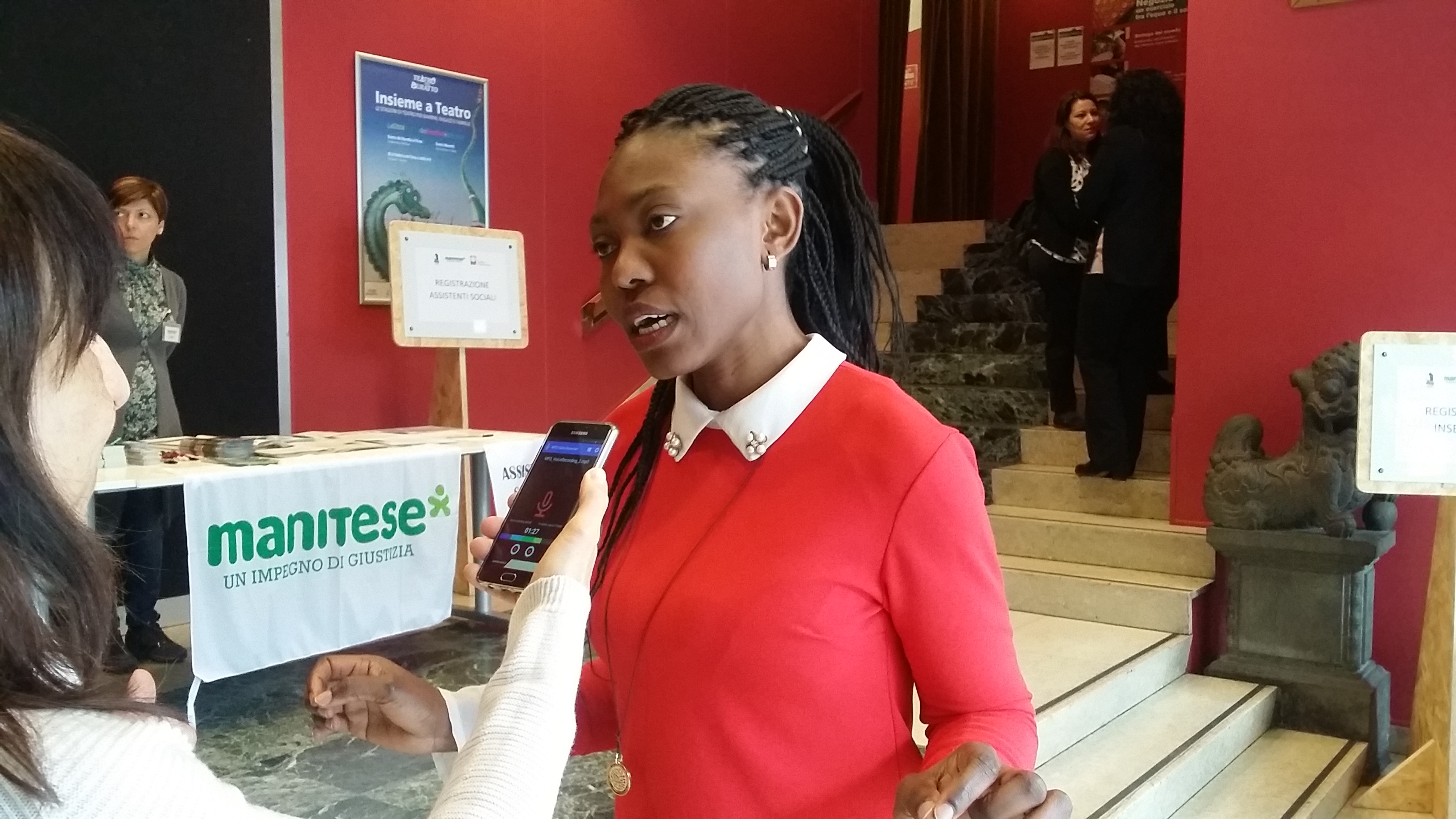 "Nobody could tell me to come to Italy to work as a maid. I was educated; I had a business and I read newspapers and journals. I waited for the years it took to process my visa and I never took an oath before leaving Nigeria", she said whilst arguing that anyone could become a victim of human trafficking regardless of their educational qualifications.
In a firm voice cementing her convictions about the pervasive nature of human trafficking, Okoedion further added that many Nigerian graduates and professionals are being trafficked to work as sex workers on the streets of Italy.
"There are so many people who are victims but are afraid to speak out. I meet so many Nigerian nurses who are being trafficked in Italy. Many Nigerian graduates are here on the streets forced into a torturous life of suffering. They post good pictures on social media, but they are afraid to speak because of stigmatization and the fear that people in Nigeria won't believe their story," she added.
Okoedion found a voice after escaping from the traps of her traffickers by finding a police station to report her plight to three days after she was forced into sex slavery. During a 'welcome' orientation by other girls whom she met at her trafficker's abode in Italy, she was told to accept her fate since reporting could land her in prison.  Her desire for freedom was resolute and on the third day, she walked the path to a changing destiny.