The Imo State Police Command have arrested more members of a child trafficking syndicate in connection with the sale of a newborn baby boy for N550,000.
Some of the babies and children had been sexually abused,
It is not uncommon for Nigerian authorities to raid "baby factories".
In some cases, unmarried pregnant women are promised healthcare, only for their children to be taken away. In others, women are raped and made pregnant.
The babies can be sold for adoption, used for child labour, trafficked to Europe for prostitution or killed for ritual purposes
The children and teenagers rescued from the 'baby factory' and homes were placed at government-approved homes for care and protection," he added.
In 2013, 17 pregnant teenagers and 11 babies were rescued from a house in south-eastern Imo state. The girls said they had been raped by one man.
In 2012, a UK judge raised concerns about "desperate childless parents" being caught up in baby-selling scams in Nigeria.
"The suspects conspired and sold a four months old baby boy delivered by Nwaokwe Chijioke to the proprietor of Unity Hospital Anara in Isiala Mbano L.G.A where Nwokeogu Lilian Chinwe is a trainee nurse.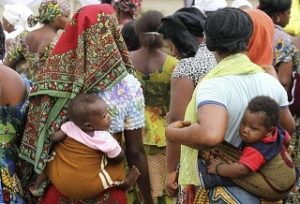 Suspects have made useful statements to the police confessing to have received the cash sum of five hundred and fifty thousand naira (N550, 000.00) as proceeds from the sale from the proprietor of the hospital who is still at large. Investigation is in progress as efforts are been beefed up to apprehend the proprietor of the hospital and recovery of the baby boy." the CP said.