Big Brother Naija housemate, Mercy has been spotted crying hot tears as her friend, Diane was evicted from the reality show.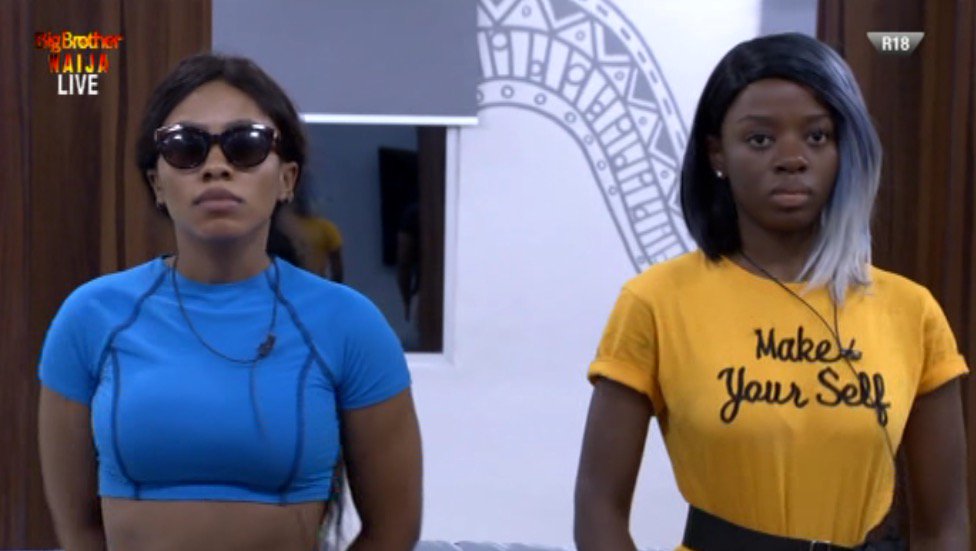 Recall that Mercy had been saved from the process for securing a place in the finale the previous week. However, Diane wasn't so lucky as she was evicted when Frodd, the Ultimate Veto Power holder picked a coin with her name on it.
Mercy, who couldn't believe her ears was seen bawling her eyes out as she hugged her friend tightly before she left the house. She then ran to her room. This is the second painful goodbye the last lady standing is making in two days, with Ike being the first.
Watch the video below:
This is the most emotional eviction for me this season…I can't believe I cried ??..I feel really bad for Mercy..wishing Diane all the best #TeamMike #BBNaija pic.twitter.com/3MG2GD0PqQ

— Stephanie (@Stephanie_Ene_) September 30, 2019
Fans who saw the scene were full of pity for Mercy as they reacted to Diane's eviction. Here are some comments gathered:
A classy quietly confident girl. Go and be great Diane❤️❤️❤️ #BBNaija pic.twitter.com/abstrGPoaY

— Mercy da Lambo❤️ (@Di_Lunit) September 30, 2019
Lord knows we as Team Mercy try to be strong in situations but this one weak us ,Ike ,Diane even Elo all in one weekend ,Mercy has been in tears since last night on her birthday ,let's use our tears right now and aggression and turn it into votes , please I beg you , #BBNaija pic.twitter.com/4RacBb4pzl

— LULU?? (@Lulu33_ZS) September 30, 2019
Yesterday Ike left, today Diane left, it hasn't been easy for Mercy but in every situation give thanks to God. She is going to win this show for her loved ones, for IKE, Diane and us her fans. She is blessed. Guys lets vote and give her the crown ? #BBNajia God bless us all ? pic.twitter.com/rjWnHso7Cu

— dave_hypeman (@DaveHypeman) September 30, 2019
My Mercy said God is punishing her??

This Diane's eviction was the most painful ever??

I swear I can't stop crying, I won't watch #bbnaija next year…..

The twist is too intense for my Heart.

Goodbye Diane,we love you?❤️#BBNaijaTwist pic.twitter.com/8ZB9zb6GFa

— MERCY LAMBO❤️ (@Nekky111) September 30, 2019
Now we are left with the five top housemates:mercy,mike,frodd,omashola and seyi

Diane really played her hide and seek game well but we finally caught her??

It was a hard one on frodd tho

Mehn the emotions in the house is tense rn pic.twitter.com/WsbcFTGCyv

— Up Titans✌✌? (@Dhurl5) September 30, 2019
what a blow ..am breaking down ..Diane baby girl we love you so much ,I cannot believe this is happening , you have come along a way as Team Mercy we appreciate your friendship ,Ike's Frienship and elozonams own , Diane especially thank you for being a sisters keeper #BBNaija pic.twitter.com/fLGSFfX9mK

— LULU?? (@Lulu33_ZS) September 30, 2019