Nigerians have released invitation card on behalf of Diane who is the main planner of the jacuzzi party for the Pepper Dem housemates.
The party has been tagged Diane's splash party because the 22 year old brought up the idea of throwing a jacuzzi party in the garden and the housemates have all joined and supported her in planning the event.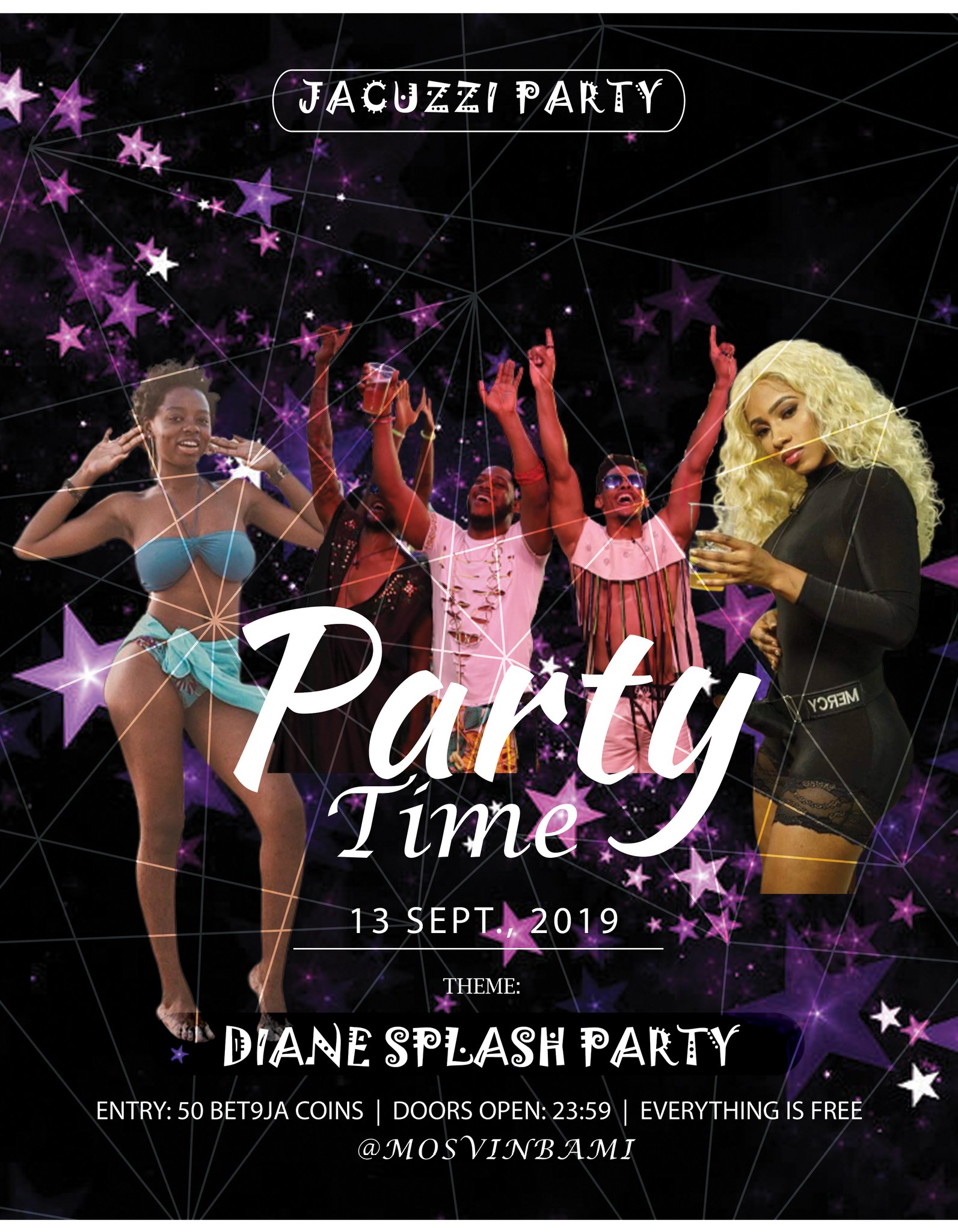 Surprisingly, the publicity for the party has gone beyond Biggies house because Nigerians have taken to twitter to help advertise the party.
Lots of reactions have trailed this event organized by Diane and it looks like Diane is using this as a strategy to gain awareness and votes.
See some reactions below:
Diane the party planner

— uchelopez (@uchelopez1) September 13, 2019
Biggie please do arena games early today Biko ??? so they can start the party early ??

— The Business Mogul ??? (@belema_tania) September 13, 2019
My beautiful babies. Diane and Eloozonam???. Biggie cancel the arena games O . We want to party with Diane and the housemates???

— Diane and Elozonam (@ButterflyN7) September 13, 2019
Biggie help them make the party lit. Get smoke machines.?Get them a hubbly hooker?. Get damn some drinking games. ?Send a cocktail bar. ?Biggie come na please make this lit for them.????? don't bore us #BBNaija #TeamMercy

— Lamborghinis Engine? (@Rose64764724) September 13, 2019
Biggie God bless u for selecting Diane as one of this year's bbnaija housemate. She's a gem???❤

— DIANE & Mercy (@BeatriceOla2) September 13, 2019
The content provider

Diane russet #bbnaija pic.twitter.com/VBqNTBuXpw

— ?? (@SassyMelanin) September 13, 2019
I don't even want Arena games anymore ?? like can we go straight to the party?? Meanwhile should I say couple goals or friendship goals??

— kainesheela (@kainesheela) September 13, 2019
Diane is talented, an event planner as well, God bless you with your heart desires a#GirllikeDiane,#Dianesplashparty

— Alice Oppong Damprane⚡ (@damprane) September 13, 2019
What are your thoughts on this?
Please share in the comment section below