Nigerians have taken to twitter to address the issue that ensued between Frodd and Mercy few minutes after Chef Matse made her way out of Biggie's house. The two got into a heated argument because of the act of selfishness Frodd portrayed. The 28 year old who was asked to make available the cook book provided by Chef Matse for the other housemates to use made a big issue out of it by exchanging words on top of his voice.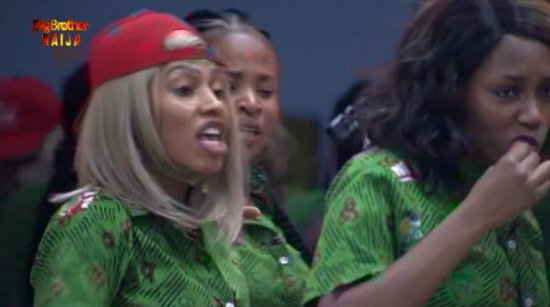 Well, Mercy who did not find Frodd's reply funny aggressively sent him off and told to stop acting like the victim in the house.
Watch Video below:
The incident has generated different opinions from concerned Nigerians on twitter. See some below:
Who ever is blaming frodd is mad, he asked the lady for the recipe food and it was giving to him so are blaming him

— evelfy (@evelynifeoma2) September 3, 2019
Mercy always acting like she doesn't need the money, but she's the one who's more hungry for it and needs it the most. Local woman.

— w σ ℓ f ɢ a и ɢ (@Gaeist) September 3, 2019
For the first time Mercy becomes HOH, she's fighting, bullying and calling people names. Why would she hoard the recipe book? #BBNaija

— Miracle Chinyere Igwe (@MiracleIgwe5) September 3, 2019
This frodd is starting to annoy me, and I'm regretting of voting him, he is ever arguing.

— Christine (@nampa96) September 3, 2019
This girl is EXTREMELY ARROGANT…just acting all been nice in this show…she is too FAKE for my liking,always belittle other HMs wenever she is angry?…mtcheeeeeewwwwww

— Precy Richt?? (@precy_richt) September 3, 2019
Could this people commenting here first look for the video and watch ? As for Frodd playing the victim, it's all in their head. This is a play out of what some HMs had planted in other HMs head. The more the hate, the harder we vote

— Misspec (@Misspec1) September 3, 2019
The hate on frodd is too much but sometimes we should learn to understand n tolerate pple and live them d way they are.mercy pls calm down cos some of ur die hard fans are voting frodd massively.

— Aminat Nasiru (@im_amiluv) September 3, 2019
Exactly, hunkle Frodd is always playing victim card, something others will over look, Frodd will make issue out of it. He's only blind when it's come to Esther

— Indomitable Jane (@JaneChyJohnson1) September 3, 2019
Mercy needs to calm the fuck down …where does the "victim" talk come from

— sms VOTE Frodd to 32052 (@nwannek90290044) September 3, 2019
it pains me when people who are not even watching the show are commenting based on what is written with low understanding of the situation…
i see nothing wrong with what Frodd asked for. people eh. Biko, stop watching only on twitter #BBNaija

— Brendan (@YoungNaira_) September 3, 2019
She's busy saying does he know who she is outside the house. Madam you went there to hustle. You should have stayed at home. Bragado

— LOVE ALWAYS WIN (@ebonibae) September 3, 2019
Mercy actually spoke right… Frood is now beginning to act like TACHA when they first came in… Seeing everyone as an enemy or potential enemy…he will. Always be annoyed with what they do and that won't help him.

— olanipekun olalekan (@olasquare992) September 3, 2019
What are your thoughts on this?
Please share in the comment section below