Big Brother Naija housemates, Seyi and Tacha are trending on social media after a cute moment they shared together in the HoH room; on his knees helping her put her shoes on.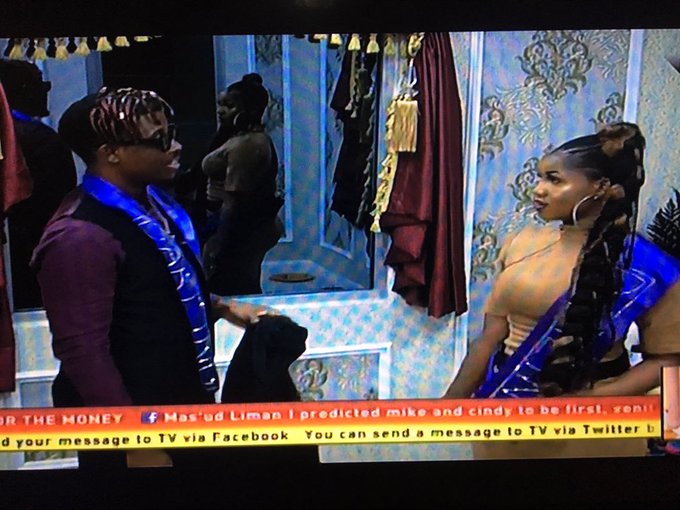 The duo, while getting ready for the Darling Hair Runway Challenge, had shared several cute moments in the HoH room, which Tacha shared with Khafi. Seyi then went on his knees to help her put on her shoes as seen in the photo below.
May your man do your shoes amen .Seyi and Tacha ?❤️ #BBNaija #findyourbeutiful #DarlingBBNaijaTask pic.twitter.com/FBBihfUDmg

— Tacha till 99 days ❤️ (@Tacha91282200) August 28, 2019
They went on to practice their walk for the runway.
#findyourbeautiful #Seycha #Seyi #Tacha #DarlingNG #DarlingBBNaijaTask Seyi and Tacha ??❤❤❤cant get enough of these two??❤❤ #BbNaija #findyourbeautiful awwwwn?❤❤ pic.twitter.com/ba1NSIRvfJ

— Elliana Okoye ❤ (@EllianaOkoye) August 28, 2019
Fans commented on how good the two looked together as they prepared for the runway. Here are some comments gathered:
"I'm still saying it, no pair in that house has the cutest pictures like Tacha and Seyi. Argue with your keypad."
Tacha and Seyi ma pa mi ????? #BBNaiija #TitansPledge #Seycha #bbnaija #BBnaija pic.twitter.com/r6g6inR4fg

— scorpio ? (@shutdafukup4) August 28, 2019
"Wait o…did Seyi just wear Tacha's heels for her? OMG,…stupid ship must sail o…"
"Get a man like Seyi who is ready to fix his baby up so she can steal d show. I love this two like kilode.."
"Can Seyi just grab Tacha and kiss her already?"
@DarlingNG We don't need to "Find your beautiful " because this is beautiful #findyourbeautiful #Tacha #Seyi #Secha #TacharisticsOfAWinner pic.twitter.com/nDJ7g6vWFd

— Fakorede Bukola ? (@BukolaFakorede) August 28, 2019
"SEYI and Tacha be acting like couples."
"Wow seyi and tacha oh my world. You all are lucky this two are dating outside if not this seycha ship for strong wella."
"Abeg let Tacha and Seyi just date already..we would beg their partners out here on their behalf. They look good together."
Tacha and Seyi #BBNaija pic.twitter.com/qSmCg4n6DZ

— Dr. Khumalo (@VuzuThe1) August 28, 2019