Following Big Brother's instruction to pick an act of kindness and perform on any housemate they choose, Khafi's act of kindness has caused stirs on twitter after she was told to sing a calming lullaby to one of the new housemates Elozonam.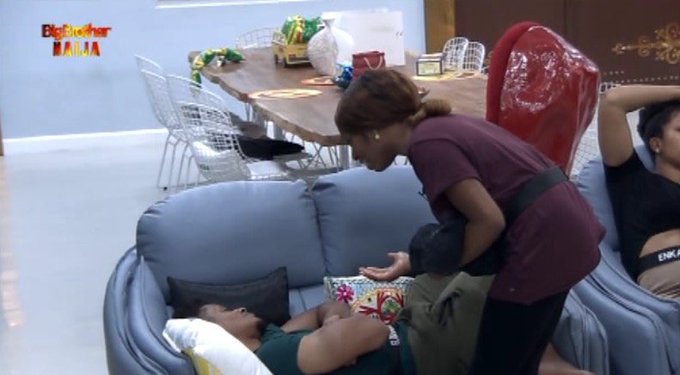 Gedoni on the other hand who was the first to start the task was told to give a piece of advice on how to survive in the Big Brother Naija House. His name card revealed his name, so he gave his mirror image advice. Gedoni did perfectly well as instructed by advising himself in the mirror for 10mins.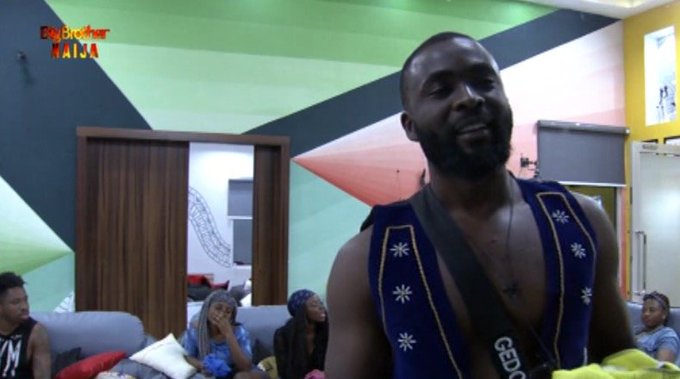 Nigerians who find this game entertaining have taken to twitter to share their thoughts. See some reactions below:
Biggie you have tried us please press that buzzer already or Khaffi won't finish ????‍♀️?‍♀️?‍♀️???

— joey mokone (@joey_mokone) August 6, 2019
Why is everyone saying she can sing? She has a good voice yes, but she's tune deaf always singing off tune

— Efuru (@Efuru10) August 6, 2019
Her act is so sweet and they are having fun

— Tia (@Tia_mj2) August 6, 2019
The lullaby is even making other housemates sleepy, really working

— kemi daniel (@kemoji2006) August 6, 2019
Khaffy na real Disney character ooo ?

— ѕρσιℓт¢нιℓ∂ (@Queenbdolce) August 6, 2019
@BBNaija Awwww! Kudos to you khafi….She has tried..Sweet voice

— Vivian (@ono_viv) August 6, 2019
Irrespective of the fact that she has been dickmatized, she is great at singing a calm lullaby to Elozonam so I say, weldone Khafi #BBNaija

— CertifiedYorubaBoy ?? (@lekkkysmile) August 6, 2019
Elozoman wey like sleep before

— 2CODE DA SAVEYOR (@TucodeBaba) August 6, 2019
Froodd is sleeping oo becos Khafi singing??

— Nana Adams (@NDK_ghana) August 6, 2019
Her voice is so calming. Eli is seriously enjoying it #TeamKhafi #bbnaija

— Angyiembe Norah (@NorahAngy) August 6, 2019
Wow…for the first time I enjoy Khafi Bravo…i love it…i love it pic.twitter.com/T7xXSfnwyd

— COLBY KASONGO ???? (@colbykasongo1) August 6, 2019
Khafi can successfully run a daycare

— 马Riya? (@Riya_elixir) August 6, 2019
She's so good ,she put her energy in every task ..aww Khafi

— Lanza?? (@itz_MaameAkua) August 6, 2019
Such an melodic voice I stan a energygodess

— kellies precious (@KelliesPrecious) August 6, 2019
Do you think Khafi will gain more fans with her act of kindness?
Please share your thoughts in the comment section below