A plane has been reportedly crashed near an airport in Dubai, leaving as many as 4 persons dead afterwards.
However, three Britons and a South African were aboard the UK-registered DA42 plane, UAE authorities said. The four-seat plane was owned by Flight Calibration Services which is based at Shoreham Airport, in West Sussex.
The firm flies staff around the world to inspect and calibrate navigation aids – which include radars and landing systems for airports and airfields.
The General Civil Aviation Authority (GCAA) says an investigation is under way.
According to local media reports, the plane came down at approximately 19:30 local time, killing a pilot, a co-pilot and two passengers.
Flights were delayed and diverted as the airport – one of the world's busiest, based on international passenger traffic – was closed for 45 minutes.The Foreign Office said in a statement: "We are working closely with the Emirati authorities following reports of a small aircraft crash in Dubai."
US engineering and aerospace company Honeywell said it had hired Flight Calibration Services and the DA42 plane for work in Dubai.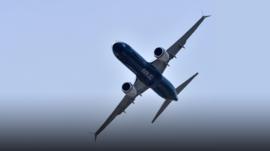 In a statement, Honeywell said: "We are deeply saddened by today's plane crash in Dubai, and our heartfelt condolences are with the victims' families."
May their souls rest in peace.What do you think about this? Kindly drop a message in the comment section.
Source: Tori.ng