At least two people killed in plane crash near San Diego as homes engulfed in flames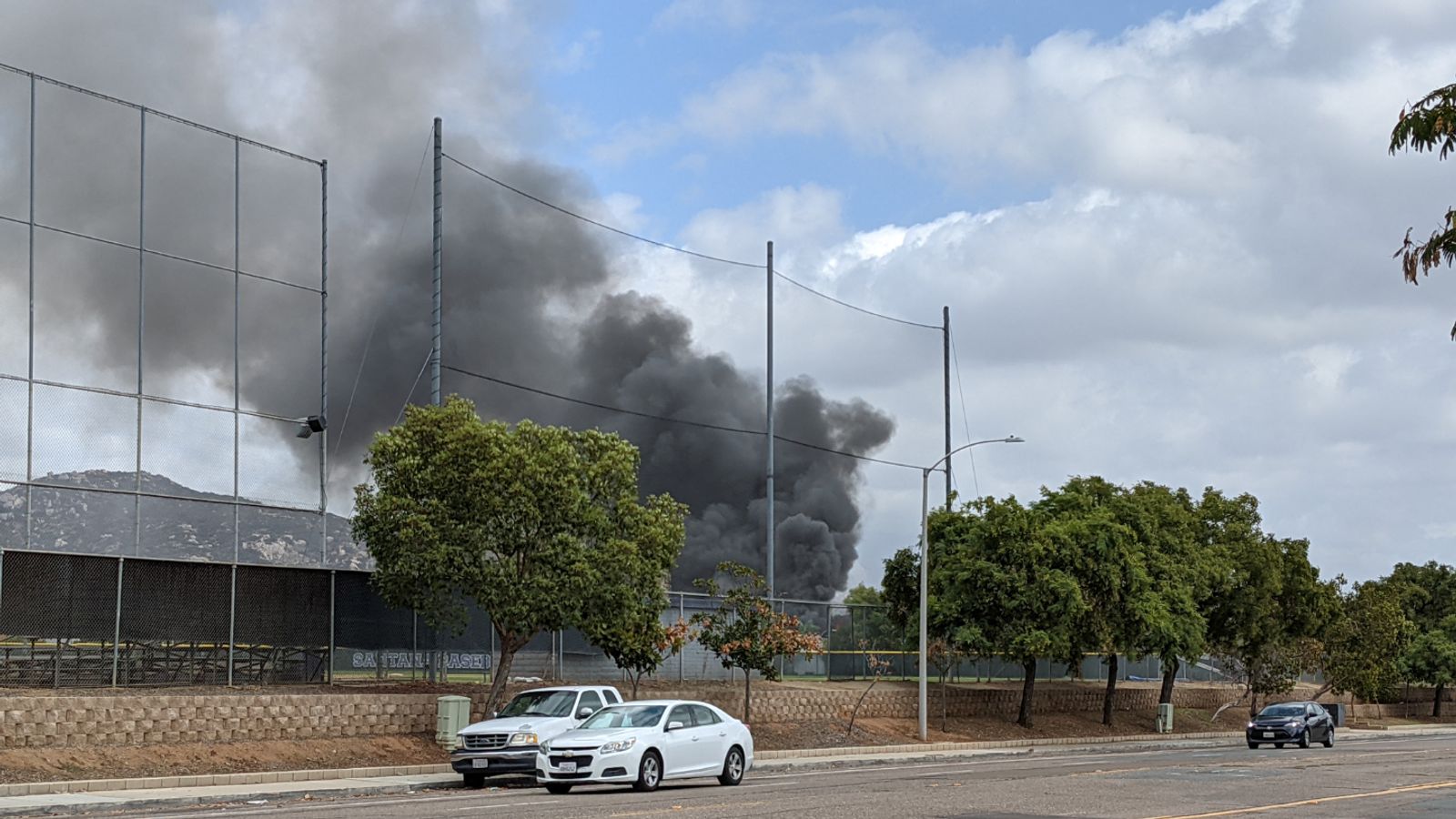 At least two people have been killed in a plane crash near San Diego, California. Two homes were engulfed in flames and another ten damaged after the aircraft went down in a densely populated suburban area in Santee.
The plane, a twin-engine Cessna C340, was believed to be a private aircraft flying between Yuma, Arizona, and Montgomery-Gibbs Executive Airport in San Diego, according to the local fire department. The crash site is a few miles north of a small San Diego County airport called Gillespie Field and NBC San Diego reported that the plane ran into difficulties when it tried to land there. Additional details about who was on board were not immediately available, though Santee's deputy fire chief Justin Matsushita said "the injuries are non-survivable for anyone that was on that plane".
"Not to be too graphic, but it's a pretty brutal scene," he said as his colleagues searched the ruins.
The crash happened about three blocks from Santana High School, which said all of its students were safe. Witnesses said they saw a retired couple being rescued from one of the homes that was destroyed. Michael Keeley felt his home shake when the crash happened and ran barefoot outside to find one of his neighbours calling for help from inside her burning home.
Source: SKY News
Lassa fever kills 77 in Edo, Ondo, others, 356 hospitalised

THE Nigeria Centre for Disease Control has said that 77 persons have so far died of Lassa fever nationwide this year. It added that no fewer than 356 persons were currently undergoing treatment for the same disease. The NCDC disclosed this in its latest Lassa fever's situation report made available to our correspondent on Monday. An analysis of the report indicated that a total of 3,208 suspected cases had been reported since the beginning of the year. The report revealed that six health workers were infected.
Further analysis also revealed that in total for 2021, 14 states had recorded at least one confirmed case across 60 local government areas. Of all confirmed cases, 84% are from three states -Edo (45%), Ondo (34%) and Taraba (5%). The predominant age group affected is 21-30 years (Range: 1 to 70 years, Median age: 29 years). The male to female ratio for confirmed cases is 1: 0.8.
States with respected number of cases are hereby listed; Edo 1,965; Ondo-709; Taraba 66; Ebonyi 117; Bauchi 65; Plateau 26; Benue 24; Kaduna 42; Enugu 14; Nasarawa 10; and Kogi 113. Others are Cross River 3; Delta 37; Abia 81; Kwara 2; Bayelsa 2; Katsina 1; Niger 1; Ogun 3; Oyo 2; Rivers 9; Zamfara 1; Jigawa 8; Adamawa 7; Gombe 9; Lagos 13; Kano 9; Ekiti 3; Yobe 4; FCT 8; Imo 7; Kebbi 2, Borno 2; Anambra 5; and Osun 2.
Source: Punch