Mass defection hits Benue APC as hundreds dump party for PDP in Ushongo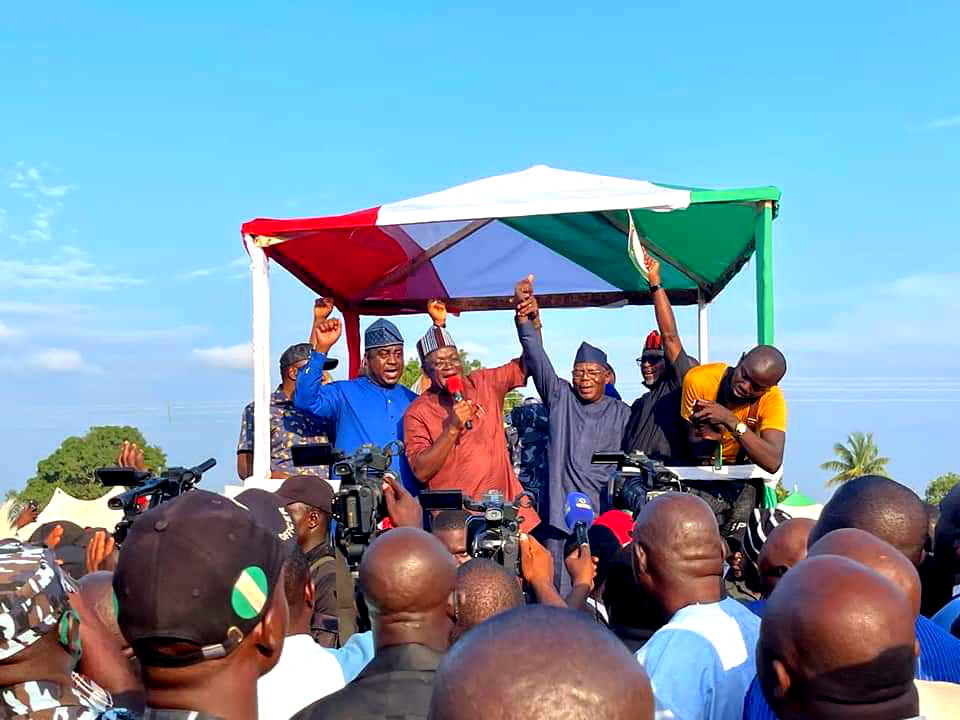 The mass defection of members of the All Progressive Congress, APC, and those of other political parties in Benue state continued at the weekend when hundreds of them in Ushongo Local Government Area, LGA, of the state again decamped to the Peoples Democratic Party, PDP.
The defectors who abandoned their parties less than two weeks after a similar occurrence in Agatu and Kwande LGAs were received by Governor Samuel Ortom assisted by Senator Gabriel Suswam representing Benue North East senatorial district.
Led by Dr. Akoso Aganyi, they cited the unending armed herdsmen attacks in the state, worsening insecurity and skyrocketing prices of goods and services as well as increasing poverty in the country under the APC led federal government as some of the reasons for dumping the party.
Receiving the defectors Governor Ortom pointed out that with all the attacks and killings by armed herdsmen that the state had witnessed without genuine efforts by the federal government to tackle the challenge and also intervene in IDPs situation in the state, any Benue person still in the APC should re-examine him or herself.
He said the APC administration had failed Nigerians and there was no reason for any Benue son or daughter to remain in the party, stressing that the people of Ushongo had fared better under the PDP-led administration in the past.
Source: Vanguard
#BBNaija: Cross reveals he is the son of late billionaire, Ezego
Big Brother Naija "Shine Ya Eye" housemate, Cross on Saturday, revealed that he is the son of controversial late billionaire businessman, Ezego of Ihiala. He passed away in 1999 at the age of 34 after giving in to injuries he sustained from an auto crash while traveling to his hometown.
Cross, while chatting with fellow housemate Peace on the dining table, revealed that Ezego was his dad, and added that the passing of his father had a huge negative effect on his mental health.
According to him, the playful cross that many people know today was as a result of him working on himself. He explained that when his father died he had a lot of built up anger in him, but he has now been able to manage his anger.
He also revealed that the lawyer who was supposed to read his father's will absconded with the documents. Ezego was born on the 25th of December in 1964. He is a native of Ihiala in Anambra state.
The businessman's source of wealth had raised unanswered questions as he became wealthy after a very brief stay in Lagos.
Source: Correct Ng
Flooding death toll passes 44 in Turkey's Black Sea region

Families of those missing after Turkey's worst floods in years anxiously watched rescue teams search buildings on Saturday, fearing the death toll from the raging torrents could rise further. At least 44 people have died from the floods in the northern Black Sea region, the second natural disaster to strike the country this month. Drone footage by Reuters showed massive damage in the flood-hit Black Sea town of Bozkurt, where emergency workers were searching demolished buildings.
Thirty-six people died as a result of floods in the Kastamonu district, which includes Bozkurt, and another seven people died in Sinop and one in Bartin, the disaster and emergency management directorate said. In one collapsed building along the banks of the swollen river, 10 people were believed to be still buried. The rapid floodwaters appeared to have swept away the foundations of several other apartment blocks. Relatives of the missing, desperate for news, were nearby.
"This is unprecedented. There is no power. The mobile phones were dead. There was no reception. You couldn't receive news from anyone," said Ilyas Kalabalik, a 42-year-old resident.
"We had no idea whether the water was rising or not, whether it flooded the building or not. We were just waiting, like this. Our wives and children were panicked. Once sun came up in the morning, we saw police officers. They took us from the building and hurled us into a gas station."
Kalabalik was surrounded by residents who were asking each other whether anyone had any news about missing people.
Source: Guardian
Flood displaces 120 families in Jigawa community

Flood, occasioned by heavy rain, has displaced more than 120 families at Unguwar Tsallake area of Guri Local Government Area of Jigawa, the News Agency of Nigeria reports.
The Information Officer in charge of the council, Alhaji Sunusi Doro, told on Saturday that the incident occurred after a torrential rainfall on Wednesday and Thursday.
Doro said the flood submerged more than 120 houses, thereby rendering the occupants homeless.
"Some of the houses have already collapsed while others were submerged.
"Most the occupants are now staying in their relatives' residences, as the water has denied them access to their houses," Doro said.
He explained that the flooding had also cut off the general hospital in the area, adding that the residents had to navigate through the flooded water before they could access the facility. The information officer quoted the Council Chairman, Alhaji Musa Shuaibu, as sympthising with the victims, appealed to National Emergency Management Agency (NEMA) and the State Emergency Management Agency (SEMA) to come to their aid.
Source: Punch
Liverpool starts season with decisive win over Norwich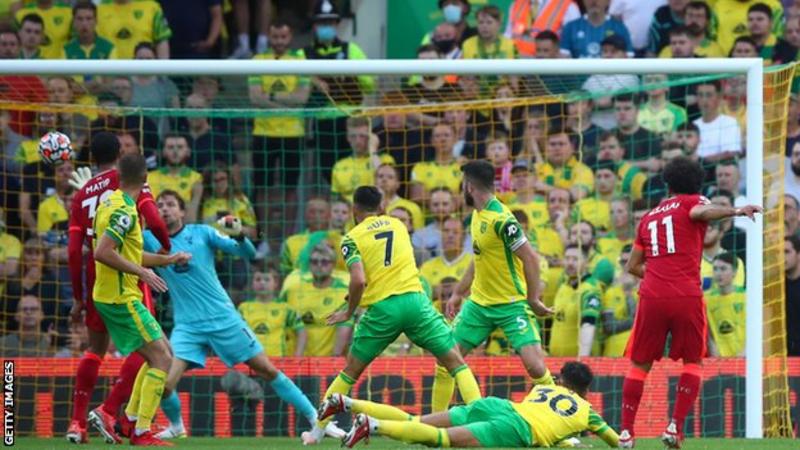 Mohamed Salah scored one and provided two assists as Liverpool got their Premier League title bid off to a winning start with a comfortable victory at newly promoted Norwich City.
Salah got his side's third to become the first player to score on the opening weekend in five consecutive Premier League campaigns and cap a fine display after earlier setting up Diogo Jota and Roberto Firmino.
The Reds were boosted before kick off by the return of talismanic defender Virgil van Dijk after 10 months out through injury and their day got even better when they took the lead midway through the first half.
Trent Alexander-Arnold found Salah inside the box and the Egypt forward's touch fell into the path of Jota to finish clinically.
It was a little harsh on Norwich, who had made a spirited start to the game as they were roared on by a buoyant home crowd making the most of their return to Carrow Road and the top flight.
Teemu Pukki, who scored 11 goals in the Premier League two seasons ago, drew an early save out of Alisson after getting in behind the visitors' defence.
But once Liverpool went in front they rarely looked in danger of letting their lead slip as Norwich struggled to rediscover their early rhythm.
Max Aarons cleared a goal-bound effort from Sadio Mane six minutes after the break but a second goal duly arrived shortly after the hour mark when substitute Firmino struck.
The Brazil forward had only been on the pitch four minutes when he tapped in from close range after unselfish work from Salah, who opted to pass to his team-mate when he had the chance to shoot himself.
Salah then wrapped up the perfect opening day for the Reds when he collected the ball after a corner had only been half cleared and curled a fine strike into the back of the net.
Source: BBC Football
Putin alarmed over 'unprecedented' natural disasters in Russia

Russian President Vladimir Putin on Saturday said the scale of natural disasters that have hit Russia this year has been "absolutely unprecedented". Speaking at a video conference with officials on the effects of Siberia's record-setting forest fires, he said it was "important" to work on the climate agenda "systematically."
While Siberia sees an annual wildfire season each summer, the fires have burned with an increasing intensity in recent years, which Russian weather officials and environmentalists have linked to climate change.
The leaders of Siberian regions affected by the fires, as well as of a southern Russian region affected by floods, took part in the conference.
"In the south (of Russia), the monthly norm of rainfall now falls in a few hours and in the Far East on the contrary, forest fires in drought conditions are spreading rapidly," Putin said.
He called on authorities to be ready to evacuate more people living in areas affected by the fires, as well as provide economic support for them.
He also called on officials to calculate the effects of the fires and make plans to reconstruct houses.
The Russian leader said it was important to do everything to "save the forest riches" and "minimise damage for animals of the taiga", a word used to describe northern Russian forests.
This week Russia launched a national response centre and deployed additional firefighters to battle the devastating Siberian fires.
In Yakutia, one of the hardest-hit regions this year, fires have already burned through more than 9.4 million hectares (23.2 million acres) — an area larger than Portugal.
Source: Guardian Ng
Fr Mbaka vows to follow Messi to PSG, give reasons

The Spiritual Director of Adoration Ministry Enugu Nigeria (AMEN), Rev. Father Ejike Mbaka, has vowed to support Paris Saint-Germain, PSG, after the signing of Lionel Messi.
Mbaka explained that goodness will follow Messi to PSG because he is a gift to football and this generation.
Addressing his members on Saturday, the Adoration Ministry spiritual leader, however, lamented that Barcelona failed to retain the Argentine after he suffered with them.
According to Mbaka: "Just like Messi, now that he had suffered for Barcelona, they have said that sustaining his contract is difficult, that they can't maintain him.
"Messi is a gift to the football universe in our generation. Everywhere he goes, the same goodness will follow him. Wherever he goes, we will go.
"We believe in his football talent, we believe in his natural gift, what he does with the ball with his leg.
"Whichever clubs he joins, we will support."
Messi had signed a two-year deal with PSG during the week, after undergoing his medicals in France.
The Argentine superstar had spent 21 years in Barcelona during which he lifted a lot of trophies.
Source: Dailypost