BREAKING: Save Nigeria from Collapse – NADECO writes UN over Buhari's Government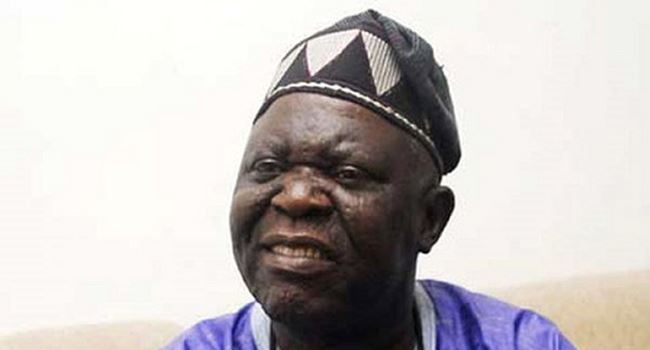 The National Democratic Coalition(NADECO) has written to the United Nations(UN) calling for an intervention into Nigeria's current situation, adding that the country is on the brink of collapse. The group called on the UN to prevent a total breakdown of order in the country via a letter made available to POLITICS NIGERIA on Sunday signed by its spokesman, Ayo Opadokun. The letter was addressed to the Secretary-General, United Nations Organisation (UN), Mr. António Guterres,
The letter read; "We, the National Democratic Coalition, on behalf of Nigeria write to formally request you to use your good offices to take immediate and concrete steps to halt the fast deterioration of national security and political stability in Nigeria."
The group stated that the 1999 constitution was developed by a clique of military soldiers and forced on Nigerians.
"Nigeria's current situation is so deplorable because of the imposed centralist and unitary 1999 Constitution, which was manufactured by a military clique and imposed upon us."
"Ethnic nationalities who were the building blocks upon which the British colonialist constructed Nigeria had clamoured, appealed and cautioned the sectional military wing ruling Nigeria (foisting former Presidents, Olusegun Obasanjo and Goodluck Jonathan) as surrogates, for Nigeria to return to a federal constitution upon which Nigeria secured its independence in 1960 but their interventions had always been met with disdain and provocative responses."
"Nigerians have never accepted the suspension, and abrogation of the negotiated Independence Constitution."
The group had earlier written a letter to President Muhammadu Buhari accusing him of having a 'Fulanisation' agenda. The letter dated June 15, 2021, the group argued that the growing secessionist tendencies in the country were fuelled by what it called the obvious policy of 'Fulanisation' and the president's refusal to discontinue the operation of the 1999 Constitution as altered.
"The foregoing narrative explains why the owners of Nigeria were not given the opportunity to participate in constitution-making whilst the Tables of Rights of the component parts of the country show the reasons why you, Mr. President, and your preferred citizens, will forever not allow Nigeria to go back to what was agreed and formed part of the independence constitution; making one Nigeria the biggest fraud ever." the statement read in part.
Source: Politics Nigeria
Millions gone as angry indigenes raze 27 houses in Delta

Not less than 27 residential buildings have been razed in the wake of a boundary dispute between two communities Obubu and Oleri in Udu council area of Delta state. It was gathered the conflict began when a real estate developer from Obubu community allegedly trespassed a land belonging to neighbouring Oleri. According to reports, some angry indigenes of Oleri allegedly stormed the land for development, forcing the equipment away from the location and further invaded Obubu community, setting houses on fire over alleged trespass of their land.
Indigenes of Obubu, including women and children, were said to have scampered for safety, seeking refuge in other neighbouring communities to avoid been caught up in the onslaught. Though details of the incident were not clear as of press time, it was gathered that warriors from Obubu made attempt to retaliate the attack the following day but were repelled by Oleri youths. Although no death was recorded, the clash reportedly left several persons from the two communities with varying degrees of wounds.
A source,who spoke in confidence, said in 2001, the Ovie of Udu kingdom and people from both communities sat and resolved the matter by sharing the disputed lands for both communities.
"It was after then that a tourist centre came and they (Oleri) gave out 350 acres for the tourist centre, another 50 acres to a Catholic church.
Councillor of Obubu ward, Hon. Oputu Awhotu, confirmed all 27 houses burnt are in Obubu community, adding the community is still under threat of attack in a conversation with The Nation. He said a visit to the land in question showed it is a portion that has never been in dispute between the communities. He explained though both communities have had boundary disputes in time past, some of them were "settled out of court and others in favour of Obubu community".
"The place they took the bulldozer to has never been in dispute between Obubu and Oleri communities. So these guys attacked Obubu and said the machine must not work.
"Nobody in Obubu had dispute with Oleri community, so they just attacked, shooting anyhow and burning houses. Either 27 or 28 houses were burnt.
"The current situation is we are still facing threats of their attack. The council called both communities over the matter, they came for inspection too. But there is still threat on the community. Almost members fled from the community.
"Yesterday, Obubu community went to the king but we did not meet him. We will go again. But I know he is aware of what is happening," Ahwotu stated. Efforts to speak with an indigene of Oleri community, Moses Segba (Esq.), proved futile as of press time. Operatives of Delta Police Command and soldiers were reportedly drafted to the area to stem further hostilities. The soldiers were said to have occupied the land in dispute to avert further crisis from either sides. Acting Police Public Relations Officer (PPRO), DSP Bright Edafe, confirmed the incident, stating that only 17 houses were burnt. Though he could not give update on the current situation, the PPRO assured that "sanity has been restored to the area".
Source: The Nation
Separatist Rebels Kill Three Gendarmes In Cameroon

Three gendarmes were killed by Anglophone separatist rebels in Cameroon's Northwest Region, the latest deaths in a bloody four-year conflict, a perfectly told AFP on Sunday. The attack on Saturday follows the murders of two soldiers and an official in the neighbouring Southwest region in two separate incidents. Five other officials also kidnapped in one of those attacks were still missing on Sunday.
"Three gendarmes who were at their checkpoint were attacked and killed" by separatists, Ngoketunjia county prefect Quetong Handerson Kongeh told AFP, adding that two of the three killed had been decapitated. A fourth managed to escape. He said a large number of rebels overwhelmed the gendarmes who "could not defend themselves".
A bitter independence struggle by English-speaking rebels has been raging in Cameroon's Northwest and Southwest regions since 2017. Members of the anglophone minority in the country's westernmost provinces have long complained of being marginalised by the French-speaking majority and 88-year-old President Paul Biya, in power for 38 years. From 2017, their demonstrations devolved into a bloody conflict.
The rebels have extended their violent attacks against police and soldiers to civilians. UN and international aid groups say both army troops and anglophone rebels have committed abuses and crimes against civilians. In the past four years, more than 3,500 people have been killed and over 700,000 have fled their homes to escape the conflict.
Source: Channelstv.com