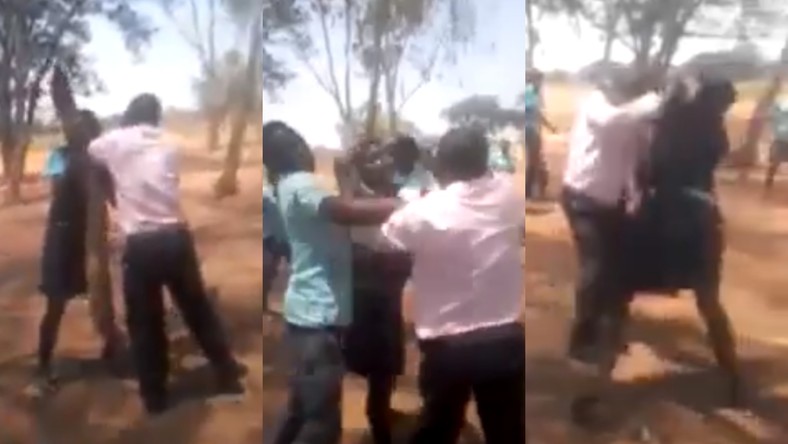 We have intercepted on a fast trending video which captures an altercation between a female student and her teacher.
The shocking footage captured a brutal brawl between a teacher and pupil as the entire student body watched them reign blows into each other.
Attempts to separate the two were unsuccessful.
Information regarding the fist fight remains scanty as we do not know what exactly triggered the exchange of blows.
As at the time of filing this report the name of the school where the unfortunate incident happened was unknown.
CAMPUS GETS FRENZY AS FEMALE STUDENT AND POTBELLIED TEACHER EXCHANGE BLOWS IN PUBLIC
A fight between a female student and her teacher in the presence of the entire student body was so intense that attempts to separate them could not succeed.
A video of the incident shows the campus turning frenzy with students shouting and running all over the place, as the little female student stood up to the potbellied teacher in a serious exchange of blows.
It is not clear yet what triggered the fight but the two parties could be seen in the video initially holding a log before pushing it to the ground in anger.
What is equally yet to be ascertained is the name of the school where the dramatic incident happened and how authorities dealt with the conduct of both the teacher and the student.
This story first appeared on BrownGH.com